GNMIDI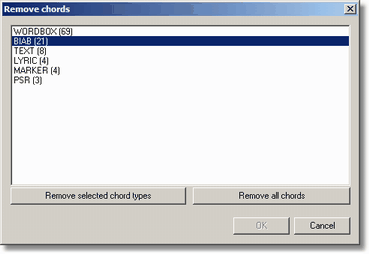 [in menu Modify]

This function removes chords of some common chord formats used in MIDI files:



Select one or more chord formats in the list box and then use remove selected chord types
or use Remove all chords.
Use OK button to remove the selected chords or use cancel to abort this operation.

Removing chords might be necessary if you need to add chords in a certain format and the song already contains chords in an other format.

Hint: This operation is available as batch operation. Using GNMIDI Light license batch operations are not available.